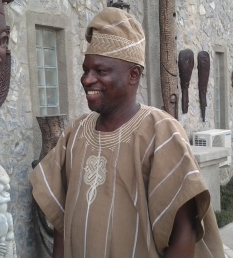 Member, Board of Trustees
Ayowumi Ayanwale Olayanju (FRM1) hails from a drumming lineage from Akinmoorin in Oyo state. He inherited the arts of drumming and chanting of genres of Yoruba poems from his father and mother respectively. He emerged as best student in Yoruba language in his first and second degrees from Lagos State University ( LASU, 1988) and University of Lagos (UNILAG,1990).
His self-embarked projects on cultural activities earned him National Youth Service Corps (NYSC) awards at local,state and National levels in 1989 which eventually secured him automatic employment with the Federal Government in 1991( Federal Ministry of Tourism, Culture and national orientation) after he lectured at LASU for one year.
His passion for cultural propagation, promotion and implementation has also earned him the following awards in service: Public Service award in 2007, National Honours Award in the category ''Federal Republic Medal First'' (FRM1) in 2008 and an award for promoting African Cultural Heritage in Bahia state, Brazil in 2011.
He has served in the following capacities: Cultural Officer to the Special Adviser to the President on Cultural Affairs and Traditional Matters (Professor Wande Abimbola), Pioneer Liaison Officer to Nigerian first Cultural Centre (Nigeria House) in Salvador- Bahia in Brazil and UNESCO National Programme Officer for Culture in Nigeria.
Ayanwale has been rendering Nigerian National Anthem with talking drum since year 2000 and he was part of President Olusegun Obasanjo (GCFR) entourage to France, Brazil and Ethiopia in 2005, entertaining His Excellency and the entire entourage with talking drum. Ayanwale documented biography of Chief Sunday Adeniyi Adegeye popularly known as '' King Sunny Ade'' titled ''Oba Orin'' in 1998''. In 2008, he translated the Seven-point agenda of president Umaru Yar' Adua (GCFR) into Yoruba language.
Currently, he is writing a book on Yoruba proverbs ''OWE; Yoruba Philosophical Channel of Molding Humanity'' and co-author of ''Ayan Agalu; The Spirit of Yoruba Drums''.