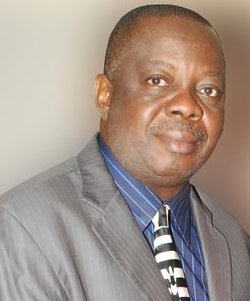 Secretary, Board of Trustees
Femi Adelegan, has rich practical and theoretical experiences in projects management, Investment facilitation and trade promotions. Femi Adelegan is a time-tested bureaucrat and information manager, whose technocratic instincts kept him within the precincts of political power for several years. For most of the 1990s through the turn of the millennium, (1994-2000) Adelegan, a publicist, public administrator and writer, walked around the corridors of power as an image manager and spokesman to four consecutive governors of Osun State, Nigeria. He also previously served (2003-2010) as Chief Private Secretary/Special Adviser on Policies, Programmes and Plans Implementation to the governor of Osun State, Nigeria.
In this capacity, he managed government's trade promotions and Investment desk. At various times, (2008-2012) Femi Adelegan served as a member of Nigerian Government's official delegations to the General Conference and Executive Board Sessions of UNESCO in France, and was on Nigerian Presidential Delegations to the United States, Peoples Republic of China, Vietnam (2006) and the G-20 summit in Canada(2010). He also attended the 41st Session of the United Nations General Assembly held in New York, United States.
Femi Adelegan is a highly principled, articulate, painstaking and thorough personality who builds relationships based on trust; and is highly accommodating, warm, friendly, frank and ready to shoulder responsibilities. Femi Adelegan has visited all parts of the world and is married to Oluwafunmilayo. Visit http://www.femiadelegan.com for more.