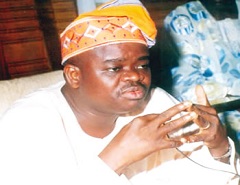 The Centre for Black Culture and International Understanding, Osogbo, Osun State will be hosting its 2018 Distinguished Public Lecture on Saturday, February 3, 2018. The Guest Lecturer is the renowned Professor of Political Science at the University of Lagos and former Director General of the Centre for Black and Arts and Civilization, Prof. Tunde Babawale. Prof. Babawale will be speaking on the topic, 'Protecting Our National Heritage, Projecting Our National Treasure'.
CBCIU has since its inception in 2009 boosted research and cultural activities, particularly about the black race. CBCIU has also promoted interactions among cultures. Its major objective is the promotion of inter-religious and cultural dialogues as well as fostering international peace and Understanding. It has been associated with the staging international conferences in Nigeria and these attracted participants from all over the world, including representatives of UNESCO, the African Union, ECOWAS and the United States National Conference on Black Mayors.
The events include the following:

1. The first Global Conference on Black Nationalities

2. A Colloquium on Slavery, Slave Trade and its Consequences

3. The World Conference on Black Mayors

4. Exhibition of the works of Chief Taiwo Olaniyi (a.k.a Twin Seven-Seven) At the 36th Executive Board session of UNESCO held in Paris, France among others.
The Board of Trustee of the Centre is headed by Prince Dr. Olagunsoye Oyinlola, the immediate past Governor of Osun State and the current Chairman of National Identity and Management Commission. Other members of the Board are the renowned doyens of higher education in Africa, Distinguished Prof. Peter Okebukola,OFR and Emeritus Prof. Michael Omolewa; Chief Muraina Oyelami, Chief Jimoh Buraimoh, Mr. Ayo Ayanwale and Mr. Augustus Ajibola, both of the Federal Ministry of Information and Culture and Mr, Femi Adelegan, the Secretary to the Board of Trustees. By striking coincidence the lecture also coincides wuth the birthday of Prince Olagunsoye Oyinlola. Prince Olagunsoye Oyinlola was born on February 3, 1951 into the royal family of His Royal Majesty, Oba Moses Oyewole Oyinlola, the Olokuku of Okuku in Odo Otin Local Government Area of Osun State. Prince Dr. Olagunsoye Oyinlola has served as Military Administrator and Executive Governor of Lagos and Osun states respectively. He is currently the Chairman, Board of Directors of the National Identity Management Commission, (NIMC)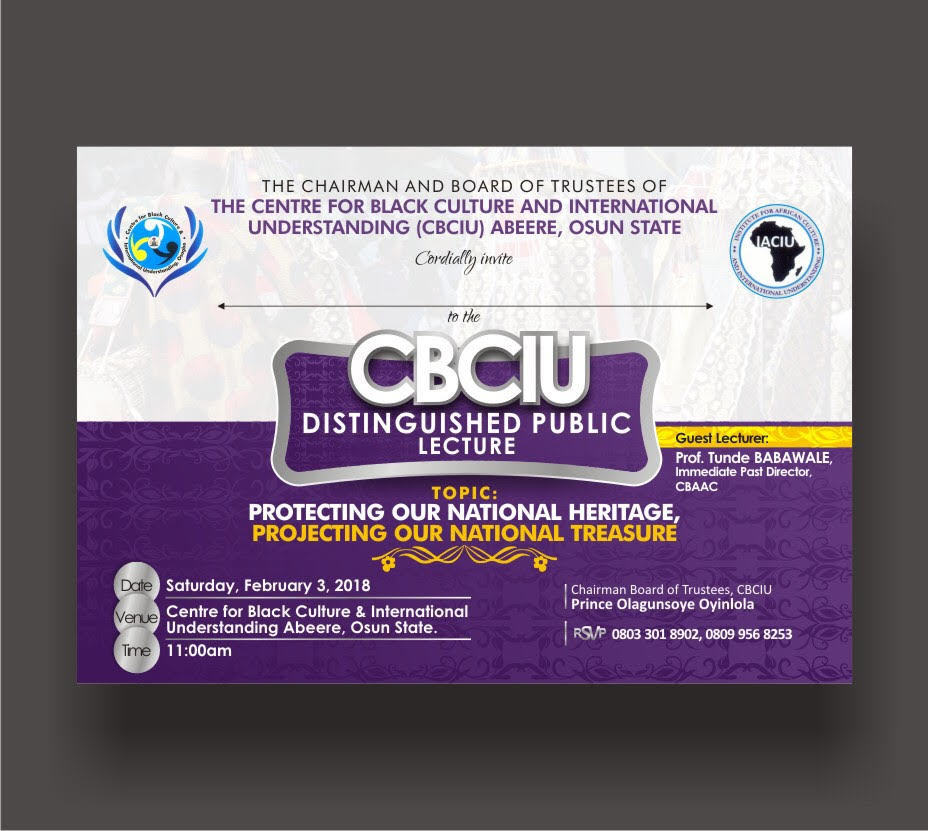 The Public Lecture will come up on Saturday, 3rd February,2018 at Ulli Beier Hall situated at the premises of the Centre for Black Culture and International Understanding,behind State Secretariat, Oke pupa, Abeere, Osogbo.