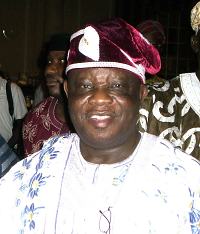 Member, Board of Trustees
Jimoh Buraimoh is a contemporary Nigerian artist and one of the original "graduates" of the 1960's experimental workshops known as The Oshogbo School of Art. A pioneer in the history of modern art in Africa, Chief Buraimoh is the continent's first bead painter, having in 1964, created a contemporary art form, inspired by the Yoruba tradition of incorporating beadwork designs into ceremonial fabrics and beaded crowns.
He represented Nigerian artists at the First All African Trade Fair in Nairobi, Kenya in 1972 and his work was presented at the Second World Black Arts Festival (FESTAC) in Lagos in 1977.
In 1983 he became the first Nigerian to be awarded a membership in the Contemporary World Association of Mosaic Artists (Associazione Internazionale Mosaicisti Contemporanei) based in Ravenna, Italy and contributed to a global public-art statement for world peace in Ravenna's Parco Della Pace.
Chief Buraimoh has enjoyed international acclaim and worldwide popularity throughout his career. His 1997 mosaic mural, The Elders, commissioned by the City of Atlanta, Georgia USA and installed in the City's Howell Park, received an Award of Excellence from the Atlanta Urban Design Commission as The Best Mosaic Mural of the Year.
Chief Buraimoh is a dedicated teaching artist. In 1974, as a guest of the United States government, he taught bead painting at Haystack Mountain Craft School in Maine and lectured at schools in New York City, Los Angeles, Boston and Baltimore and at Indiana University in Bloomington, Indiana. He frequently conducts workshops in conjunction with his exhibits and contributes to outreach programs like October Gallery's Engage in Art Project in London and the arts education program in the primary school system of Manchester, England.
Artwork created by Buraimoh and his students in city-sponsored programs are permanently displayed at Atlanta's Hartsfield-Jackson Airport.