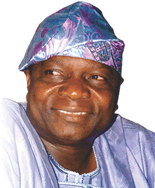 Chairman, Board of Trustees
Prince Olagunsoye Oyinlola, fondly called "Lagun" within the family circle, was born on Saturday, February 3, 1951 in Okuku, Odo Otin Local Government Area of Osun State into the royal Oyinlola family. His father, Late Oba Moses Oyewole Oyinlola was the Olukuku of Okuku between 1934 and 1960 and has a record of a peaceful and successful reign. Olagunsoye's mother, Late Olori Comfort Ololade Oyinlola, hailed from Otan Ayegbaju. Her family migrated from Otan-Ayegbaju to settle in Okuku. Olagunsoye Oyinlola's mother died in 1959 when he was barely eight years old while his father died a year later. Following the loss of both, at a very tender age, the task of nurturing Olagunsoye fell on the elderly members of his family.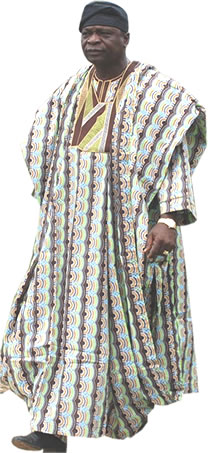 The formative stages of his educational career saw Olagunsoye attending four primary schools between 1958 and 1963 due to the fact that his guardians who took over his parental responsibilities were unstable. He, however, completed his primary education at St. Michael's Primary School, Okuku in 1963.

Thereafter, he proceeded to Odo-Otin Grammar School, Okuku, where he obtained the West African School Certificate in 1968. Olagunsoye Oyinlola, out of love for the military profession, enlisted in the Nigerian Army in 1969 as a Private Soldier and was posted to the Signals Corps, then headed by Late General Murtala Ramat Mohammed. He had turned down an admission offer into the Ahmadu-Bello University, Zaria, as a result of his love for the uniform. He later attended the Nigerian Defence Academy as a participant in the Short Service Course 11 and was commissioned as an officer in 1971, into the Armoured Corps of the Nigerian Army at the prime age of 20.

In quest for knowledge, Olagunsoye Oyinlola attended the Obafemi Awolowo University, Ile-Ife where he bagged a Diploma in International Relations in 1979. He later proceeded to the University of Madras, India, where he graduated with M. Sc. Degree in Defence Studies in 1988. In 1999, Prince Oyinlola Olagunsoye, in consideration of the fact that knowledge is power, also attended the University of Ibadan where he added yet another Masters Degree in Strategic Studies to his academic achievements. Not satisfied with his academic attainments, he proceeded to Buckingham University, United Kingdom where he graduated in law in 2003. His decision to study Law was influenced by his desire to provide free legal services to the poor.

Prince Olagunsoye had a fulfilling career in the military. He trained at the Nigerian Defence Academy, Kaduna as well as Command and Staff College Jaji, where he served as a Directing Staff, and Military Institutions in India and the United-States. Prince Oyinlola was at the National War College, Abuja where he was awarded the Fellowship of the War College in 1998. He served meritoriously in various capacities as Troop Leader, Squadron Leader, Battalion Commander, Brigade Commander, Acting General Officer Commanding and Military Administrator.

He participated in the United Nations Peace-Keeping exercises in Chad and Somalia in 1983 and 1993 respectively. The stream of successes recorded by Olagunsoye Oyinlola in the military and his humility and level-headedness, saw him being appointed the military administrator of Lagos State, a position he held from December, 1993 till August 1996. He bowed out of Military Service as a Brigadier-General in 1999.
MILITARY INSTITUTIONS AND QUALIFICATIONS
Nigerian Army School of Education – Ilorin 1973 – French, English/Current Affairs Course.
5e Regiment de Chasseurs, Periguex France 1974 Specialities on AML 60 and 90.
NAAC School Ibadan 1974 – Young Officers Course.
Royal Armoured Corps Centre, Britain 1975 – Troop Leaders Armoured Course.
The School of Armour Pakistan 1977 – Communications Instructors Course.
Command and Staff College Jaji 1979 – Junior Division Staff Course.
US Army Armour School, USA 1981 – Armoured Officer Advanced Course.
Command and Staff College, Jaji 1982/83 – CSC course 5.
US Army Institute of Personnel and Resource Management USA 1984 Adjutant General Officer Advanced Course.
US Army Institute of Personnel and Resource Management, USA 1984 Military Personnel Officer Course.
Defence Services Staff College, Wellington, India 1987/88 comparative staff College
National War College, Abuja 1997/98 – NWC Course 6.
A humane, compassionate and accommodating personality, Prince Oyinlola married his wife, Omolola, (nee Majekodunmi) in 1978. The union is blessed with four children. His hobbies include golfing, hunting and fishing. Olagunsoye Oyinlola emerged the Governor of Osun State of Nigeria on May 29, 2003 and remained in office till November 26, 2010.
As Governor of Osun State, Prince Oyinlola embarked on several welfare schemes and developmental programmes designed to improve the living standard of the populace. The programmes of his administration accorded priority attention include provision of portable water, Transportation, Agriculture, Health, Education, Security, Poverty Alleviation and Job Creation.

It is on record that Prince Olagunsoye Oyinlola handled the intricate art of governance with the greatest zeal, commitment and dedication. The various streaks of successes recorded by the current Administration in Osun State are due largely to team-work and the ability of the Governor to carry everybody along in the scheme of things.
Olagunsoye Oyinlola, a gifted and talented manager of human and material resources is imbued with immeasurable native wisdom. He utilized this attribute in the handling of State matters to the admiration of the citizenry. Olagunsoye Oyinlola transformed Osun State, which he inherited as a theatre of conflicts and seemingly irreconcilable differences into a modern and peaceful state which was in a hurry to develop. Former Governor Oyinlola was able to steer the ship of the State to the total admiration of all, convincingly exhibiting a responsive and responsible leadership style that has stood him out as an achiever and selfless patriot.

The Osun State Government, under his leadership has utilized to the greater advantage of the citizenry, the principle of visioning and planning. He was able to open up the state to the local and international community, utilizing Culture and Tourism which grew rapidly during his tenure. He was the prime architect of the First Global Conference of Black Nationalities, a Colloquium on Slavery, Slave Trade and Its Consequences which were held in Osun State from 23-27 August, 2011 and commenced plans for the hosting of the World Summit of Black Mayors in Osun State.
Prince Oyinlola is utilizing his warm and friendly disposition to cultivate friendships, even beyond the shores of Nigeria, thus placing the Centre for Black Culture and International Understanding at a vantage position for development.

In recognition of his outstanding contributions to the development of humanity, Prince Olagunsoye Oyinlola was in April 2004, conferred with an honourary Doctorate Degree in Civil Laws by the Ladoke Akintola University of Technology, Ogbomoso and a Doctor of Letters Degree of the Federal University of Technology, Minna, Niger State in 2006.
Prince Oyinlola also bagged a Doctor of Laws Degree (Honoris Causa) from the prestigious Buckingham University, United Kingdom, in February, 2007. Similarly, Osun State University honoured him in 2010 with a Doctor of Laws degree while Lead City University, Ibadan followed suit in December 2010 with the award of a honourary Doctorate Degree in Civil Laws on Oyinlola. He is also a Fellow, Chartered Institute of Arbitrators and a Fellow of the Nigerian Institute of Management.