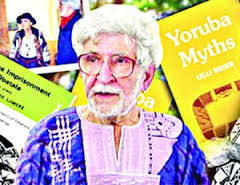 We are celebrating Ulli Beier, who died on 3rd March, 2010 on Saturday, 2nd July, 2011.
Ulli Beier (aka Sangodare Akanji Arabagbalu, aka Obotunde Ijimere) hardly needs an introduction, least of all as a Yoruba man who just happened to have been born white in far away Germany in 1922.
He lived a very intense life among the orisa and their priests and priestesses while here in Osogbo, and when perforce he had to relocate to Australia, his heart was always in Yorubaland—indeed, his wife Georgina told me by email shortly before he died that she had to look for some Yoruba people in Sydney to come to the house to speak Yoruba language to him. This, Georgina said, lifted his spirits very much and he died knowing that he was going to rest in the bosom of Obatala.
His family in Australia—Georgina his wife, Tokunbo and Tunji his sons—marked his funeral with a little ceremony the Friday after he died, and then on Sunday called people together to celebrate a unique life, with poetry, music, food, drinks and a little dance.
That is what we want to do for Ulli, a man who lived life to the full wherever he found himself, but whose soul resides for ever in our society.
Programme
Saturday, 2nd July
10:00 am: Exhibition of Ulli photographs and writings
11:00 am: Tributes, Reflections, Recollections, Reminiscences
Venue: CBCIU Hall
LUNCH
Saturday, 2nd July
Extracts from Duro Ladiipo's Moremi followed by traditional performances
Musical Entertainment by Jimi Solanke
Time: 6:00 pm to 10:00 pm
Venue: WOCDIF Centre, Osogbo