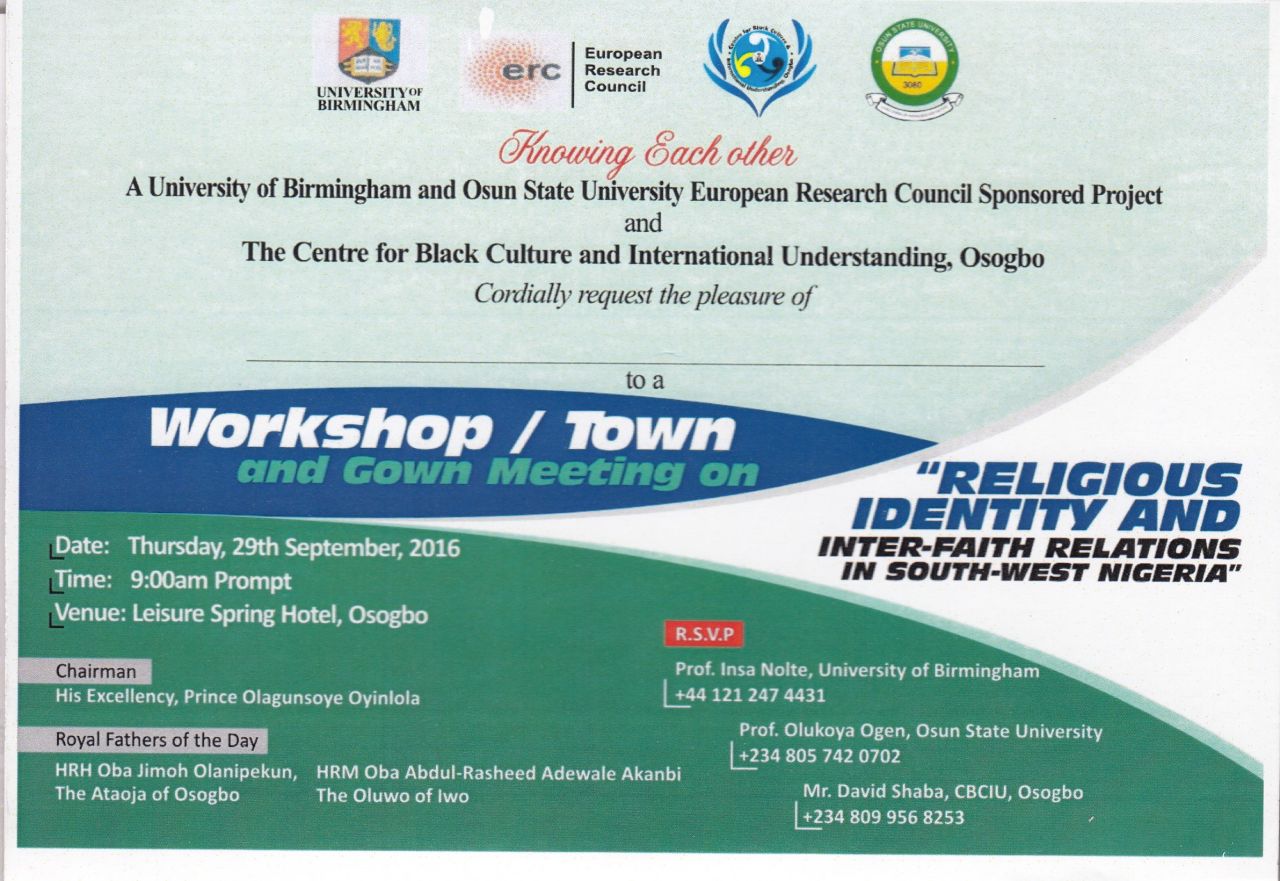 One of the cardinal objectives of CBCIU is to "give greater recognition to cultural diversity and to intellectual dialogue including its interreligious component in order to reinforce social cohesion in Nigeria's pluralistic society and beyond." South-west Nigeria has well-established Muslim and Christian communities as well as traditional religious culture which continues to be of international interest. Despite this religious diversity, and unlike other parts of the country, the Yoruba-speaking communities of Nigeria have experienced only low levels of religious conflict.
The workshop is a collaboration between the Knowing Each Other Project (Department of African Studies and Anthropology (DASA) University of Birmingham, UK, Osun State University) and Centre for Black Culture and International Understanding Osogbo.
The workshop will discuss the findings of the first large-scale survey on religious identification in Yorubaland since 1963, carried out by the Knowing Each Other Project, with religious stakeholders, traditional rulers, and general public. The discussion of our survey findings will serve several purposes, including
Encouraging the mutual engagement and debate between cutting edge research and important stakeholders in south-west Nigeria's religious economy.
Providing a forum for research-focused debate between representatives of different religious and their stakeholders.
Recognising and affirming the importance of Osogbo, as a centre of cultural and religious.
Venue : Centre for Black Culture and International Understanding , Osogbo , Nigeria
Date: Thursday, 29thh September, 2016
R.S.V.P
Prof. Insa Nolte, University of Birmingham
+44 121 247 4431

Prof. Olukoya Ogen, Osun State University
+234 805 742 0702

Mr. David Shaba, CBCIU, Osogbo
+234 809 956 8253

RECENT GALLERY
---