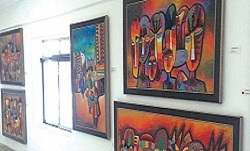 50 YEARS OF OSOGBO SCHOOL OF ARTS: A CELEBRATION CONCEPT PAPER
PROMOTING AFRICAN ARTS & CULTURE
TRAVELLING EXHIBITION THEMED: 50 YEARS OF OSOGBO SCHOOL OF ARTS: A CELEBRATION
CBCIU is getting set to host the exhibitions at the following venues, subject to the final ratification of CBCIU's requests for partnerships/collaboration extended to organizations of the countries highlighted in this compilation. The archive of a cultural icon, Prof. Ulli & Georgina Beier forms the nucleus of CBCIU, that is drawing from the inspiration and examples of the great things that Ulli Beier did in Osogbo from the 1950s through to the 1970s, and carry out cultural activities that would answer to contemporary needs of Black societies all over the world. Since its establishment in 2009, CBCIU has cooperated with UNESCO in the field of culture, and the promotion of peace and international understanding at different levels, especially with regard to Cultural Policy, and the preservation and conservation of culture.
The United Nations; New-York;
Atlanta, Washington DC
African Union Headquarters, Ethiopia;
Federative Republic of Brazil
United Kingdom,
Federal Republic of Germany, and some nations in the Europian Union
France,
Austria,
Peoples Republic of China,
Japan
Republic of Korea,
United Arab Emirates,
Netherlands
WHY THE CELEBRATION?
Osogbo, the host settlement of CBCIU is both a Yoruba city kingdom of over 700,000 people and an important chapter in the history of modern African art. In the 1960s, Osogbo witnessed a series of artistic activities ranging from painting and sculpture to music and theatre. The results attracted international attention and paralleled Osogbo's artistic status in Nigeria with that of Paris, France. Since then, Osogbo art has become a trade mark, signifying the richness and vitality of Yoruba art and culture, most impressively expressed by the annual Osun-Osogbo. Two different groups of works can be distinguished. There are the paintings, sculptures, beads, and textiles sold locally and internationally, and other works depicting Yoruba deities and festival motifs. A huge chunk of the credit for placing Osogbo on the world's cultural map would go to late Suzanne Wenger, and Georgina and Ulli Beier, who did not deliberately start an arts school or movement. Rather, what they started with in the 1950s, was to engage the young boys (and girls) who were in the Duro Ladipo Theatre to do some art works during the long hours between play rehearsals. The experiment succeeded beyond Ulli and Georgina's wildest imaginations, and has boosted art and culture on a global level. What should be highlighted now are some of the distinctive features of the experiment, whose features constitute the reasons why CBCIU Osogbo, plans to celebrate the contributions of the Osogbo School of Art to the global Art community. The following are noteworthy:
Although there were already contemporary artistes trained according to modern (western) art techniques and perspectives in Nigeria, the Oshogbo experiment was the first to have succeeded in encouraging a contemporary modern art that would build on and continue the indigenous art traditions. This, above all, is what has made the artistes famous throughout the world; The artists themselves were by and large young men with only rudimentary formal western- style education, after which they became artisans, petrol station attendants or, in the famous case of twins, a dancer for itinerant medicine peddlers. All of them were resident in Osogbo, capital of Osun State, Nigeria. Easily, the achievement of Georgia and Ulli was the ability to turn the underprivileged and disadvantaged status of these young men into great assets: no certificates were required of them to join in the experiment. They were totally unself-conscious they had not been influenced by notions of Western art then taught in schools;
According to Ulli Bier, "Early prediction that Oshogbo artists would soon run out of steam after their European Mentors left Nigeria in December, 1966 looks particularly ridiculous". It is not only this misconception that the Exhibition desires to invalidate, but it is essentially a celebration of an Artistic movement that has not only remained true to its cultural identity and essence. All of these, and more, are the reasons why CBCIU is committed to celebrating 50 years of Osogbo Art Movement. From that beginning to the present, almost all the promotion that Osogbo Art has had has been from abroad or by foreigners. True, there has been patronage of them by individual Nigerians and Nigerian Institutions, but proper international recognition of what the movement stood for, and still represents has been lacking. Osogbo Art Movement was uniquely an Osogbo thing, so much so that the town in fact became known as the left Bank of Nigeria art in the 1960s.There are more artists of good quality, old and middle-aged, plying their trade in Osogbo today than in any other town in Nigeria, including Lagos. The following facts emerge:
By its very success, the Osogbo Art experiment proved that tradition can be modernized from within; that in certain fields of cultural practice; not certificates but talent is what matters most;
If there had been no Osogbo Art Movement, there probably would not be CBCIU located in Osogbo today, or certainly, it would have been located in another town or country. CBCIU is though in many ways a product and beneficiary of the movement.
Finally, in celebrating 50 years of Oshogbo Art Movement, CBCIU is remembering and celebrating Georgina and Ulli Beier, Suzanne Wenger, and other prominent artistes whose works have gained international recognition. These celebrities have massive contributions of to the global Art community. One of these artistes, Chief Taiwo Olaniyi was later in his life named a UNESCO Artiste for Peace.
LINKAGES
CBCIU exists to anchor firmly, the role of culture in sustainable development policies, to give greater recognition to cultural diversity and inter-cultural dialogues, for cohesion, in a pluralistic world. This translates into the belief that there should be diverse and competing centres of power in any society.
On linkages with the Black Diaspora, CBCIU has gone on working trips to Brazil and Cuba, though the language barrier has impeded progress. We are nevertheless exploring ways of overcoming or by-passing that obstacle;
CBCIU has established linkages with similar institutions across the world;
CBCIU has also started talks on linkages with the Caribbean Islands of Grenada and Trinidad and Tobago, especially in the teaching of Yoruba language in the countries.
NOTABLE INTERNATIONAL ACTIVITIES & CONFERENCES ORGANIZED BY CBCIU
CBCIU has successfully organized, or part-organized, the following conferences with international dimension:

An International, UNESCO-supported Colloquium on Slavery and the Slave Trade in Iloko, Osun State.
The First Global Conference of Black Nationalities held in Osogbo, Osun State of Nigeria.
An International Conference of the World Conference of Mayors held in Osogbo, Osun State.
An Exhibition of the Works of UNESCO Artiste for Peace, Chief Taiwo Olaniyi (aka Twin Seven-Seven) held at UNESCO Headquarters, Paris, France in November, 2011, at the 36th Session of the UNESCO General Conference.
Conference on Performance Poetry in Nigeria: Traditional and Contemporary.
The Orisa Dances.
Travelling Art Exhibition themed: 50 Years of Osogbo School of Arts; held in Wilmington, United States in March, 2017. Osogbo enjoys a sister-city relationship with the City of Wilmington.
IFA PROJECT:CBCIU has embarked on an ambitious project of documenting all the ''Odu and Ese Ifa'' After the documentation, they would be translated into Spanish and Portuguese. On the 25th of November 2005, UNESCO proclaimed IFA as an Intangible Heritage of Humanity, along with 42 other masterpieces from around the world. 'Ifa is a geomantic literary and divinatory system found in many cultures of West Africa including Yoruba, Fon, Eve, Edo, Igbo and Bete. Among the Yoruba, Ifa has been developed to such a level that it encompasses all major areas of Yoruba life and thought. It is believed by the Yoruba that it was from Ile-Ife that Ifa divination spread to other parts of the world, including Madagascar and the Arabian peninsula.
THEMES OF THE EXHIBITIONS:
The Travelling Exhibitions are being staged as part of CBCIU's contributions to global peace and international understanding and also to contribute to the United Nations International Decade for People of African Descent and in furtherance of promoting inter-religious and cultural dialogues.
The exhibition will show the historical progression of the Oshogbo art movement from the catalyst; Ulli and Georgina Beier to the first generation of artistes which include Jimoh Buraimoh, Muraina Oyelami, late Chief Taiwo Olaniyi Osuntoki (aka Twin Seven Seven) to late Rufus Ogundele, Nike Okundaye and a host of others. The exhibition is exploring the trajectory of the most known woman exponent of the movement, Mrs Nike Okudaiye and traverse the world of the new generation of artistes produced by the same School of Art:
OUTCOMES:
Better appreciation of African arts and cultures to the global community; Contribute to the objectives of the UN International Decade for People of African Descent (2015-2024) proclaimed by the United Nations; Promote potentials of Africa and the true picture of African history and capabilities of people of African Descent, Promote global trade and international understanding; Enhance cultural and trade ties by nations, particularly with regard to inviting attention to the huge potentials of Africa.
FUNDING:
Funding is being sourced through partnerships, collaboration, and sponsorships to take the exhibition to all the continents of the world. The gains accruable to the global art community are enormous; with the exhibitions having the potency of projecting the cultures and traditions of Africa and the host nations; thus paving way for greater understanding of the potentials of Africa & its Diaspora; as well as promote peace and development.
CONVENERS:
Centre for Black Culture & International Understanding, Nigeria, in collaboration with institutions with similar objectives.