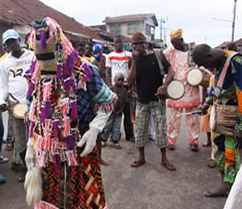 The Theme of the conference was:
Poetry Performance in Nigeria
. It was held 12th to 15th Dec 2012 at CBCIU Conference Hall in Osogbo, Osun State.Karin Barber, the keynote speaker, stayed throughout the duration of the conference; so did notable Nigerian poets like
Niyi Osundare, Femi Osofisan, Odia Ofeimun, Remi Raji
and
Lanrewaju Adepoju
. Notable indigenous (folk) performers included a Hausa poet from Sokoto, Ifayemi Eleburuibon, Alabi Ogundepo, Jaigbade Alao (a dadakuada muisican) from Ilorin, Sango of Africa, Gbonka Ebiri and a troupe from Ghana. Paper presenters came from all over Nigeria.
PARTICIPANTS & OBSERVERS
Professor Karin Barber, Centre of West African Studies, University of Birmingham, United Kingdom was the Chair of the conference and more than thirty academics from different Nigerian Universities. Most notable among whom were Femi Osofisan (academic and foremost Nigerian playwright), Niyi Osundare (academic and formost Nigerian poet), Odia Ofeimun (foremost Nigerian poet and social critic).
AREAS OF DISCUSSIONS:
• The Significance of Cultural Space in Urhobo Oral Poetry Performance
• Playing Migrants and Performing Ownership: The Politics of Space in Ojaide's Labyrinths of the Delta.
• Ija G'Ampene: Performing Playground Poetry in Agatuland.
• A Reflection on the Ife Poetry Festival
• What the images whisper to the words: The video performance poetry of Chuma Nwokolo
• Content and Performance of Traditional Yoruba Chants.
• Aesthetics of Performance: The Case of Okinba Launko's Commemorations.
• Drum Speaks, Man Chants: An Aesthetic Evaluation of Selected Yoruba Poetry Performances.
• Aspects of Poetry in the Invocatory Segment of Efe Performance.
• Coded Communication in Ede Masquerade Performance in Oka Akoko, Southwestern Nigeria.
• Reinventing Poetry for its Survival: The Poetry of Akeem Lasisi
• Poetifact: Typology, Context, and Aesthetics of Poetry Performance in Nigerian Theatre.
• Creation and Recreation Processes in Yoruba Oral Poetry Performances.
• From Village Square to Digital Space: performance Poetry in Akeem Lasisi's Wonderland.
OTHER STAGE PERFORMANCES INCLUDED:
• Perfomance by Ifayemi Elebuibon
• Performance in Ibibio Poetry: The Case of Uto.
• The Bride in Marketplace: Performance in Ilugbedjo Bridal Chants.
• Content, Context, and Performance in Ekute Songs of the Remo People of Ogun State.
• The Gospel According to Omokaro: Performance and Topicality in the Poetry of Emen Omokaro.
• Court Poetry Tradition and Performance in Oyo Kingdom of South Western Nigeria.
• Neo-Performance, Second Orality and African Poetics
• Poetifact: Typology, Context and Aesthetics of Poetry Performance in Nigerian Theatre
• Old Bride, new Tears: Progress Report on Revitalisation Efforts on the Yoruba Bridal Poetry, Ekun Iyawo
• "Thematic Dynamics in a Per formative Tradition: Idoma Alekwu Oral Poetry"
• Against Reading: A Performance Analysis of Remi Raji's Lovesong".
• Rotimi Omoyele Fasan, Osun State University, "The AlterNative Songs of Odamolugbe"
• Jendele Hungbo, University of the Witswaterstrand, "Poetic Vision and a New Episteme in Yedenou Adjahoui's "Nusisi"
• Functions of Ogu Gospel Songs
• In Praise of the Oral Poetic Word : Negotiating the Intertextual Dialogue Between Tiv Swange and Recent Nigerian Poetic Performance
• Nine over Seven :Preliminary Comments Toward a Typology of Gu Oral Praise Poetry