Renowned Osogbo, Osun State-based artist, Chief Jimoh Buraimoh, speaks about his art, life as a hotelier and allegations that he no longer paints due to a number of reasons. Excerpts
THERE is an allegation that probably due to your advancing age, travels abroad to sell artworks and the fact that you manage a hotel, all your recent works, say , are not actually made by you but by your staff. How do you respond to that sir?
It's a big lie. Owning a hotel does not mean I should not work [paint] again. I have over 30 people working at the hotel. There is a manager there; my wife is working with them as is my son. Having an investment does not mean I can't work again. In fact, the reason for having the hotel is because of our guests. When there were just a few hotels in Osogbo;in the whole of Osogbo back then, we had just two hotels. That was about 33 years ago and I thought of having one for our guests when they come here. Each time they came to Osogbo, I had to leave my bedroom for our guests.
Thereafter, I thought of doing something to have a place for them and also to create a night life. There was no night life at Osogbo at that time; by 8.30, everyone had gone to bed. To bring Jimi Solanke, K-Voices from Abeokuta, that was what we did in those days. And we did it for years to create life, and that was after MbariMbayowas closed. There was no place for artists to meet again. Apart from that, some other artists have done what I have done and there is no crime in doing that. In those days, Bruce Onobrakpeya was a teacher and at the same time working [as an artist]. KoladeOsinowo was a teacher so is it a crime for an artist to have another business? I don't think so.
I do my works by myself. Anybody who comes here will see us working. And there is no crime too in teaching other people my style. I taught in the US; I teach anybody who wants to learn. My own way is to teach people, to give them light but some other people prefer to hide what they have.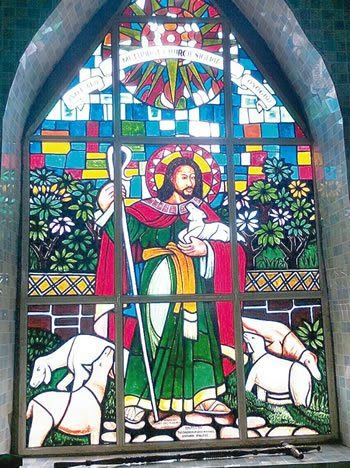 Then, I also believe that an artist should have something else doing apart from art so that he won't be selling his works anyhow. It's when you are hungry that you sell your works anyhow. If you are not hungry, you will keep your work until you are ready to sell it and nobody will come and give you peanuts. That was why I started the hotel but nobody does my artworks for me, I do it myself. Having the hotel allows me to concentrate on my art and I am not forced to sell my works anyhow because guests come to the hotel and they acquire the works; I don't need to borrow money. That's why I created another source of revenue; to have enough money to buy materials and I encourage other people to do so too. Young people should embrace this too so that they won't be carrying their paintings about looking for buyers; taking their works to the Bar Beach for sale. I don't carry my works around; you acquire through exhibition or phone call or at the hotel.
I hold exhibitions in US and Europe so I don't need to take my works there more so it's almost the same price that I will sell in those places that I sell in Nigeria. My other engagements have not stopped me from painting my works myself.
The Osogbo Artists Movement to which you belong recently marked its anniversary. The celebration went well and the reason is not far-fetched. We started in 1964 and though we ought to have celebrated about two years ago, we could not. However, being that myself and Chief MurainaOyelami are board members of the Centre for Black Culture and International Understanding (CBCIU), we thought we should have it this year to mark the milestone. We wanted Nigerians to know that Osogbo has played a leading role in Nigerian art because in the past, academics never thought we were serious and assumed Osogbo art would die very soon. But glory to God, the art didn't die. Our style was criticised but eventually, we've influenced other Nigerian artists. Ife, Nsukka and Auchi have their own styles but they have now embraced our style which means that Osogbo has done a wonderful thing. We pray to mark the 75th anniversary.
When you started the 1964 workshop alongside Chief Oyelami and the late Twins Seven-Seven amongst others, did you expect you would become globally renowned?
No. Even Ulli [Beier] too never knew it would become big like this because it was like child's play. About 50 of us participated in the workshop and most of us were working with DuroLadipo.Ulli's intention was that the successful ones among us can be doing the backdrop for DuroLadipo's plays. But as time went on, we started to create different types of works that became more interesting and very difficult to use for stage. Eventually, everyone evolved their styles and we had to start exhibiting our works. I was at the same time still in the theatre and painting but I discovered that we were all painting almost the same thing. So I decided to take a break from painting for six months after which I got the idea for bead painting which happened to be the first in Africa. I never knew it would blossom like this.
Aside bead painting; you are also into mosaic murals. In fact, your works adorn hotels including Lafia Hotel, Premier Hotel, Ikoyi Hotel, Metropolitan Hotel in Calabar, the Murtala Muhammed International Airport, State House in Lagos and Central Hotel amongst others;do you still get commissions like that?
Yes, I still take commissions on mosaic murals, bead paintings and stain glass for churches. Because mosaic murals are outside unlike bead paintings that you can't expose outside, they are easier to maintain. It doesn't really need cleaning because rain can wash it. However, mosaic murals are no longer as popular or common as they used to be. People no longer demand for it unlike before when even banks wanted it.
The CBCIU recently bounced back after some years of inactivity, how do you feel about this revival?
It's a great thing because UlliBeier, who owned the archives never, wanted to give anybody than to bring it back to Osogbo. And he intentionally brought it to Osogbobecause of Prince OlagunsoyeOyinlola's father. Ulli was a good friend of Oyinlola's father when he was here and he wrote a lot of things about Okuku. There was a time Ulli was not allowed in Nigeria but it was Oyinlola who brought him back to Nigeria. He was able to connect with Oyinlola several years after he left Nigeria, wanted to return but was barred.Oyinlola later invited him to Nigeria; they discussed about the archive and Oyinlola built the centre. Somehow, Professor Wole Soyinka came into the equation and became the chairman of the CBCIU and nothing happened. There was a legal tussle and in fact, I see no reason for it. Anyway, the most important thing is that the Centre is back and we are going to be organising a lot of activities. It's a UNESCO Centre and people are supposed to be coming here to study black culture. It is supposed to encourage tourism and we had a lot of programmes in the past. We are planning to have many programmes there now.
Looking back from when you started to this moment, are you happy with the choices you made.I mean to start from the theatre and then move into visual art, are there regrets?
I'm happy with my choice. I've been doing this for over 50 years and I'm still able to continue. I think it's been a very successful voyage because I concentrated fully on art after leaving the theatre. Apart from the art, I teach as well. I teach in the US; I used to be with the City of Atlanta, teaching the childrenfrom June to August. We had children aged 8 to 12 and some people.